We received an overwhelming response to the Brand Equity print edition's cover story about the revival of bike brand, Jawa. Here's one letter to the Editor that truly stood out.
Read retired Major General (MD) Subroto Kundu's tales of his Jawa and adventures on the open road, scattered with stories of "dacoit-infested" lands, deserted ravines and romances that last a life time.
Slightly edited for clarity.
Reading the article titled 'The Jawa Returns' in Brand Equity – The Economic Times, along with a picture of a dashing red Jawa of old, gave me goosebumps. The reason being that as a 23 year old Navy doctor posted at Vasco da Gama, Goa, I traded in my Rajdoot bike for a sexy, black colored Jawa and never regretted that decision.
My Jawa was called SATAN 69. It was a superb bike with a shape that could weaken anyone's knees. Being a bachelor those days in 1971 – 1973, I enjoyed my solo journeys on highways connecting Goa, Bombay and Delhi. And, of course, the many young ladies who loved the feel of a Jawa and the young Navy doctor riding it. The biggest catch of my life was my future wife, then Miss Rama Rathore. Thanks to my Jawa, I swept her off her feet. My Jawa days were real fun. It needed very little maintenance and the classical sweet throbbing sound of a purring engine was music to my ears.
The vehicle's speed and my crazy driving lead to many accidents on the highways. Once even being waylaid in Madhya Pradesh's Shivpuri area by dacoits at 4 AM on a cold winter night on 12 December 1972. It was an adventure. I got away with no loss or damage, as I knew that most dacoits those days were fauji deserters, who had become outlaws because of land and property disputes in their villages.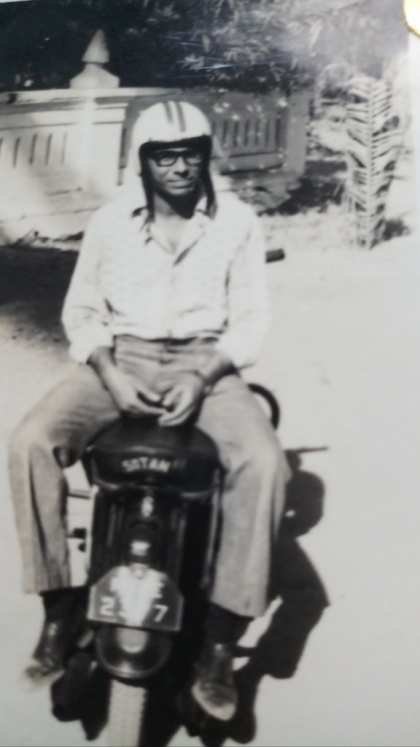 In fact, I was even treated to an early morning breakfast, once they realized that I was a "Fauji Doctor". My Jawa was left parked on the side of the highway, unlocked, with my suitcase tied at the back, as I was assured by these dacoits that no one would dare touch my bike during my absence. I was finally sent on my way, the leader of the dacoits warned me not to go gadding in the nights in these dacoit-infested areas. I was even assured that till 6PM that day no one would stop me, but I was to get into a local military hospital by then, which I did. Even passing through the thickly forested Daund, which was also a well-known dacoit area, I was not stopped or troubled. Although I did stop in the jungle for a snack and a smoke, while the convoys of commercial trucks whizzed past. On seeing me seated on a culvert, all the drivers and cleaners goaded me to keep moving and to get out of the forest at the earliest, before I come to some harm. I continued enjoying a 15 minutes rest and thereafter continued on my way.
The next day, while crossing the Chambal ravines, I needed to stop near a bridge, a river-crossing surrounded by deep gorges and hills. Not a goat or a cow even, in sight. The silence was really eerie, but I had the feeling of being closely observed. I had an apple and a smoke and finally headed towards Agra and Delhi.
Finally, the experience of driving at over 80 kmph between Agra and Delhi and being pushed off the highway by a commercial truck left me shaking. I flew over the handlebars of the Jawa and landed in a khud with stones, head first. Fortunately, I had my helmet on. The Jawa followed me closely and landed on top of me with another thud. The villagers working in nearby fields heard and saw the accident. They pulled off the bike from on top of me and finally picked up a much shaken young man and put him back on the highway. The helmet was the only thing that received a fracture. And the Jawa? Except for a broken headlamp and tail lamp, the bike was perfectly alright. As for me, I just got away with a bleeding 6-inch slash on my chest wall, which was stitched up at the Army Hospital at Delhi Cantt. I went home after that to a shocked Mum and Dad who clucked upon seeing a filthy son and a mildly battered Jawa bike. The realization of having driven up from Bombay all the way to Delhi brought about more clucking.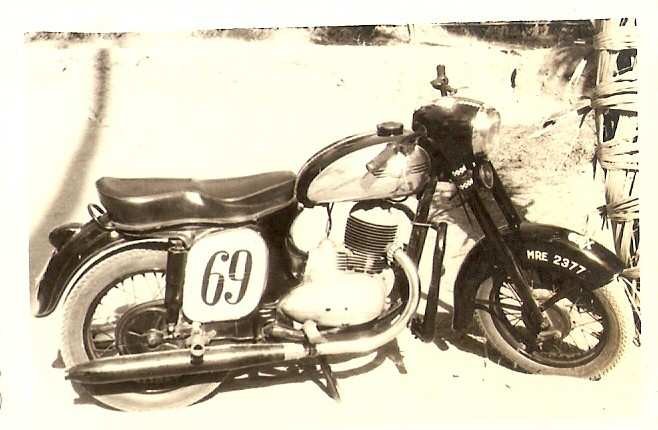 My Jawa served me well till such time I actually got down to marrying Rama and the arrival of my two children. Finally, perforce I had to trade in the bike. The reason was that my wife with my daughter in her arm were constantly in danger of slipping off the slanting seat rearward onto the road. In addition, my son sitting on the petrol tank in front of me, did pose a threat to all of us, as he felt the urge to control the navigation.
It was a sad day when Satan 69 left permanently with a sailor at Vizag, to be replaced by a more family supportive vehicle – a Vespa scooter.
Whilst at 70+ age today, the Jawa still evokes my dormant adventure spirit, it would be practical to use a car, just so that I avoid sustaining fractures maneuvering in present day Delhi's crazy traffic. Great to know that the mighty Jawa will soon be back on the roads.