Back in the mid-70s, says ad veteran Ambi Parameswaran, there was a class system to the handful of motorcycles available in India. Rajdoot was perceived to be a staid farmer's motorcycle; Bullet was preferred by rustic landed gentry and those wanting young, urban, fast and cool bikes had Yezdi and Jawa. Parameswaran owned a Yezdi for a decade but freely admits Jawa was the cooler brand at the time.
Has that cool reputation survived over four decades later? That's what the trio in charge of the restaging and relaunch of Jawa in India are betting on - Anand Mahindra, Chairman Mahindra Group, Boman Rustom Irani, Chairman and MD of the Rustomjee group, and Anupam Thareja, Founder - Classic Legends and Founder and Managing Partner, Phi Capital. How they got together is a strange, serendipitous story.
On being asked what the Mahindra Group should be doing in two-wheeler space, Thareja, who'd been instrumental in the revival of Royal Enfield had a quick answer: Jawa. Which tied very well into Mahindra's own memories of the brand: "Back when I was in Lawrence school Lovedale in the late 60s, the coolest person on campus was Morvareez Irani because she came from the Ideal Jawa family. Everyone wanted to know her so they could get an invite to the factory in Mysore. Believe me, Mahindra was not a brand of any consequence in Lawrence school. It brought me no brownie points whatsoever!", he recalls wryly.
Boman Rustom Irani was roped in because of his family connections to the brand. Irani confesses he was a little taken aback by Thareja's unconventional appearance. However, once they began talking motorcycles, he was convinced: "I said, whatever the journey, I am in. I will be very happy to see the legend that my family brought to this country, ride through the streets again." The connection was deeply personal with Irani. He recalls a youth spent riding a circuit from Mysore to Ooty to Bengaluru and back, all on a Jawa bike. And a popular Gujarati phrase that spoke of the passion people had for the brand: "Khawa na hoye toh chale, pan Jawajoiye (If I don't get to eat that's fine, but I need a Jawa). It was a brand that built the country. On the roads at the time, it was a simple rugged trustworthy motorcycle that would never fail."
The brand was a casualty of Czechoslovakia's communist policies. While the Ideal Jawa factory supplied parts for a while, from 1973 onwards no motorcycles were produced in India.
And yet, it has somehow come to be enshrined in public memory as a cool bike, according to pre-launch research. This applies to the younger demographic too. Thareja explains "A word they kept coming back to was respect. We heard from people who were 10 years old in 1996 or 1997 for whom Jawa owners were the cool uncles." Mahindra adds, "It's harder for people of my generation - baby boomers - to understand new narratives. But for the younger generation to understand genuine stories is natural. My daughters love my sixties music because it was authentic, there was a story you cannot replicate. All of this is completely pregnant in the bike we're launching. It's about history, heritage, narrative, and authenticity."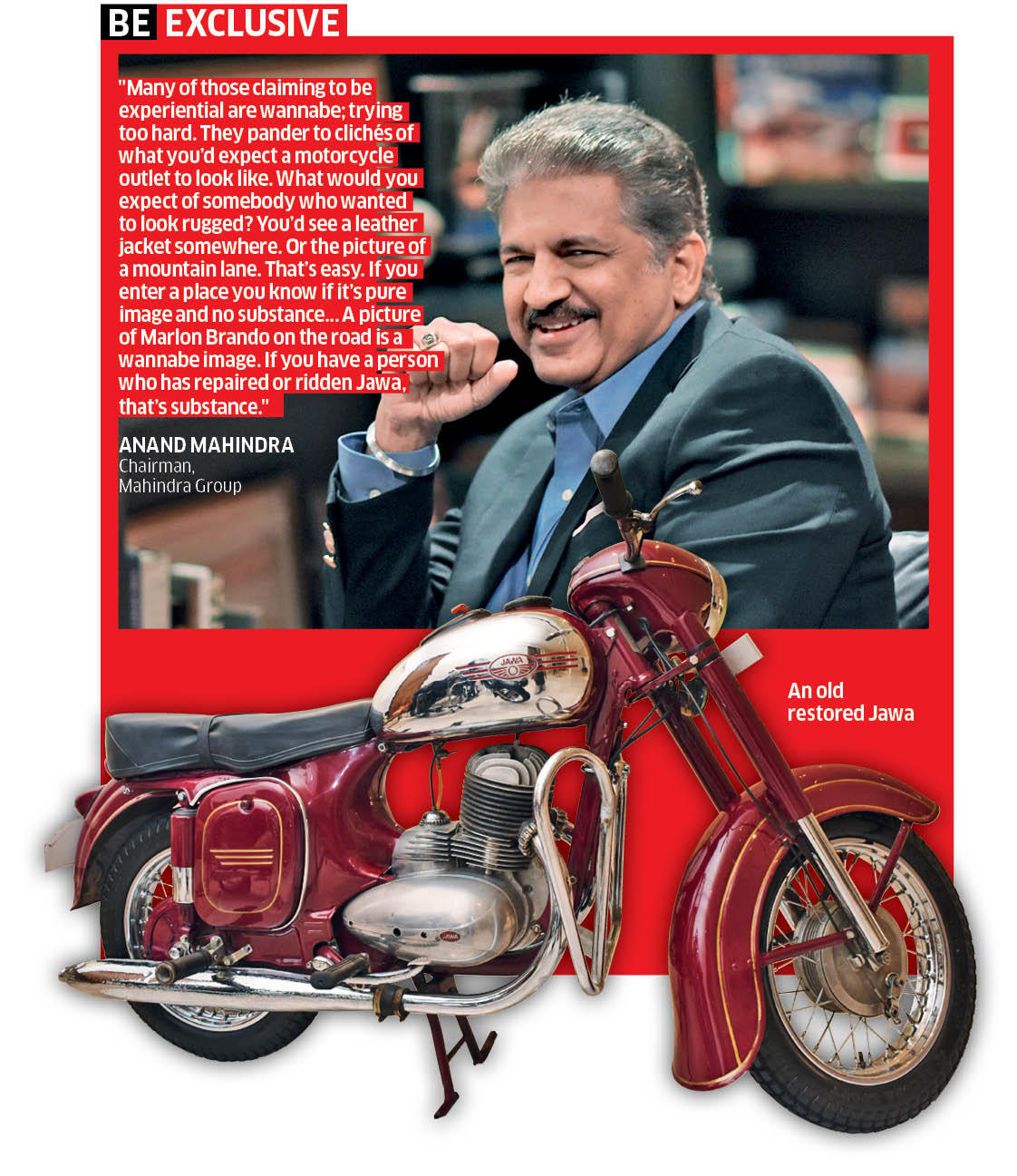 The Jawa returns



All this talk of authenticity would ring a little hollow without the current fans and users of the bike being roped in. The team found 54 clubs, with over 10,000 bikes on the road. People who've kept the bikes going, by, in some cases, fashioning their own parts when needed. Says Thareja, "We've begun to talk to them and understand what Jawa stands for. We are not supporting them monetarily as of now, but have done a lot to get more bikes on the road. That's part of the authenticity chain."
It's this same wellspring that the trio intend tapping into for the restaging. They are stingy with details about pricing. Or launch date, other than "before the end of the year." When it comes to the three bikes being introduced, all Thareja will say is, "We had two options: you start from the point where it ended. Or start where it would have gone had it not ended at the time. From a design POV, it's got that golden ratio that transcends through time. With the lines you can recognise it's a Jawa."
The team intend making even retail a unique experience. Mahindra warms up to the subject and says, "Many of those coming in, claiming to be experiential are wannabe: trying too hard. They pander to clichés of what you'd expect a motorcycle outlet to look like. What would you expect of somebody who wanted to look rugged? You'd see a leather jacket somewhere. Or the picture of a mountain lane or rugged texturing. That's easy. If you enter a place, you know if it's pure image and no substance." Substance, he argues, is when people find there is really a story. For instance, about people who've been passionate about the brand or mechanics who've worked on it all their lives. Mahindra is clear, "Their story must be told. A picture of Marlon Brando on the road is a wannabe image. If you have a person who has repaired or ridden Jawa, that's substance."
The response from the trade so far has been very encouraging. Thareja's first outreach to dealers was a bit of an internal challenge, he admits: "I told them, if this brand is true, if the love exists, get me some dealers." I thought they'd come back and say "These are the challenges." Instead, he was pleasantly surprised with 64 dealers already interested. The number will be up to at least a 100 at the time of launch. He adds, "Running dealerships requires significant capital investment and, between them, they instantly committed hundreds of crores for the brand."
According to Parameswaran, this is a good play for Mahindra considering its scooters and bikes have not done too well: "The one part of the playbook they haven't tried is reviving a heritage brand. They can go back and pull out what will appeal to today's consumer." He believes there is a residual customer base of former Jawa and Yezdi owners and their children. "Not your grandfather's Jawa" is a theme that may work, he concludes.
Jawa represents a chance for the motorcycle category to break out of what we'd like to call faux-thenticity. Riding a bike is a great, exhilarating experience; seeing bike advertising significantly less so. For too long, bikes of a certain sort - you know who you are - have tapped into a tiresome set of shopworn clichés cadged from what we assume is the Harley Davidson playbook. Like fakes everywhere, they devalue the original and now even the pioneers are part of the same wallpaper: leather jackets, the lone rider or the socially responsible Hells Angel. With his dismissal of the trite clichés of the genre, Mahindra seems headed in the right direction. Now to see if the Jawa can keep pace.